aji amarillo, ginger, soy, lime & grape seed oil
corvina, tomato, red onion, jalapeño, cilantro & lime
corvina, lime, red onion, rocoto chile, corn, sweet potato
shrimp, calamari, corvina, nuevo sauce, sweet potato, corn & red onion
VUELVE A LA VIDA    12 / 21
shrimp, calamari, octopus & corvina in spicy tomato sauce
tuna, nuevo sauce and red pepper criolla
tuna, ginger-jalapeño sauce, avocado, and cucumber criolla
tuna, avocado, tomato, red bell pepper, pumpkin seeds and jalapeño leche de jaguar
made to order, merken, pork rinds & corn chips
THREE CHEESE QUESADILLA     12 / 19
gouda, manchego and mozzarella, caramelized onions & corn
CHICKEN ADOBO THIGHS     16
SMOKED FISH CROQUETAS     7 / 13 / 20
duo aioli aji amarillo & chipotle
frontera sauce (aji amarillo & guajillo)
melted cheese, onion & corn, flour tortillas
ADD CHORIZO: +3 / ADD COCHINITA: +3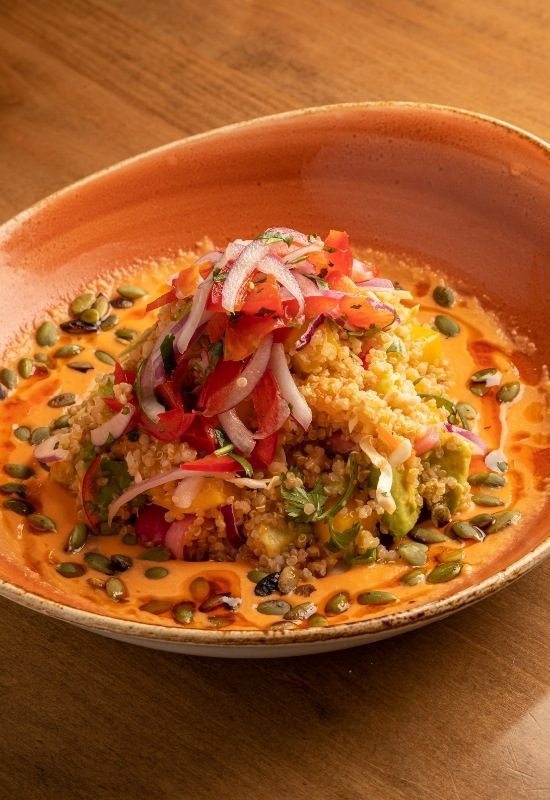 iceberg & romaine, black bean vinaigrette, tomato, cilantro, jalapeño dressing, avocado, peppers & crispy tortilla
romaine, parmesan, anchovy and croutons
iceberg, carrots, cabbage, sesame seeds and chipotle-crab aioli
quinoa, cole slaw, red bell peppers, avocado, pickled red onions, pumpkin seeds and mango
ADD:
chicken +8
salmon +9
mahi +9
skirt +9
tuna +10
octopus +10
shrimp +10
CHURRASCO ARGENTINO     29
SHOULDER TENDERLOIN     30
CHOICE OF: french fries   |   rice & beans   |   caesar salad   |  grilled veggies   |   quinoa salad
SEASONAL SPECIALTIES
FRESH WHOLE SNAPPER     45
with 3 chile graze served with assorted pickles
BIFE DE NEW YORK 16oz     60
served with house chimichurri & watercress criolla salad
tomato, potato, red onion, asian sauce, fried egg
heart of palm, corn, sweet potato & lime butter sauce
veggies, aji panca & fried egg
ADD:
chicken +8
salmon +9
mahi +9
skirt +9
tuna +10
octopus +10
shrimp +10
ARROZ CON MARISCOS A LO MACHO     34
aji amarillo cream & saffron sauce
OPTIONS: mixed seafood | mahi mahi | salmon | octopus
chopped steak, salsa roja, pico de gallo & guacamole
grilled mahi , slaw, chipotle aioli 
pulled pork roasted with achiote, pickled red onions & guacamole
quinoa, red pepper, onions, zucchini & poblano pepper
gouda cheese, lettuce, tomato, red onion, chipotle ketchup & french fries 
ADD: bacon +3 | chorizo +3 | guacamole +2 | egg +2
GRILLED CHICKEN SANDWICH     17
chicken breast, mixed greens, tomato and aji amarillo aioli
ADD: bacon +3 | chorizo +3 | guacamole +2 | cheese +2
BALBO     35
limited edition Mendoza, Argentina
BIUTIFUL     48
rosé Requena, Valencia, Spain
AGUSTI TORELLO MATA     65
cava brut reserva Catalonia, Spain
PINOT GRIS
DOMAINE BOUSQUET      40
reserve Tupungato, Uco valley, Argentina
SAUVIGNON BLANC
INTIPALKA     45
Ica Valley, Peru
CASA DEL BOSQUE RESERVA     50
reserva Casablanca Valley, Chile
YEALANDS ESTATE     68
single vineyard Marlborough, New Zealand
TORRONTES
AL VIENTO     45
Uco Valley, Mendoza, Argentina
ALBARIÑO
AS LAXAS     60
Rias Baixas, Spain
CHARDONNAY
SANTA EMA     45
reserva Leyda Valley, Chile
SANTO TOMAS     50
mision 20 white blend Baja California, Mexico
CATENA     65
Mendoza, Argentina
MOSCATO
LA GATTA     50
vite colte DOCG Piedmont, Italy
BALBO     35
malbec Mendoza, Argentina
MALBEC
BALBO     35
Mendoza, Argentina
BROQUEL     50
trapiche Mendoza, Argentina
ALTA VISTA     96
alizarine single vineyard Luján de Cuyo, Argentina
CARMENERE
MONTES     68
alpha Colchagua Valley, Chile
SANTA EMA     80
amplus one Cachapoal Valley, Chile
PINOT NOIR
TABALI     55
reserva especial Limari Valley, Coquimbo, Chile
FIN DEL MUNDO     68
reserva Patagonia, Argentina
CABERNET SAUVIGNON
CATENA     60
Mendoza, Argentina
SCARLET VINE     60
Maipo Valley, Chile
CONO SUR     88
20 barrels Maipo Valley, Chile
BLENDS
INTIPALKA     57
reserva cabernet sauvignon – syrah Ica Valley, Peru
TIKAL     70
patriota malbec – bonarda Mendoza, Argentina
TANNAT
GARZON     74
single vineyard Maldonado, Uruguay
TEMPRANILLO
FAMILIA ZUCCARDI     65
zuccardi "Q" Mendoza, Argentina
SPARKLING     13
brut / rosé
WHITE     13
chardonnay / sauvignon blanc / pinot grigio
ROSÉ     13
RED     14
merlot / cabernet / pinot noir / malbec
PALOMA SOUR     15
tequila blanco, grapefruit, lime, agave, egg white, pomp & whimsy
JAMAICA MULE     14
flor de jamaica infused pisco, ginger, lime, agave
TAMARINDOWSKI     15
vodka, tamarind, lime, maraschino liqueur
MULA FRESCA     14
mezcal, lime, ginger, agave, sal de gusano rim
GUAYABERA     14
ron blanco, guava, lime, pineapple, orgeat
MEXICO OVER MELON     14
mezcal or tequila, lime, fresh watermelon-lychee purée, spicy rim
MARGARITA     13
tequila blanco, triple sec, lime, azucar
MOJITO     13
light rum, lime, hierbabuena, azucar, soda water
PISCO SOUR     13
pisco, lime, egg whites, azucar, bitters
CAIPIRINHA     13
cachaça, lime, azucar
IPANEMA: passion fruit 14
RIO: mango 14
MAKE IT SPICY OR FRUIT FLAVORED (add $1)
CORONA     8
CORONA LIGHT     8
LA RUBIA     8
DOS EQUIS LAGER     8
NEGRA MODELO     8
VICTORIA     8
PACIFICO     8
MODELO ESPECIAL    8
LAGUNITAS IPA     8
CUSQUEÑA     8
PRESIDENTE     8
MICHELOB ULTRA     8
POLAR     8
CLAUSTHALER N/A     8
MAKE IT A MICHELADA! (add $1)
OR A MICHELADA CUBANA! (add $2)
MONOPOLIO LAGER CLARA     10
MONOPOLIO LAGER NEGRA     10
MONOPOLIO IPA ESPECIAL    10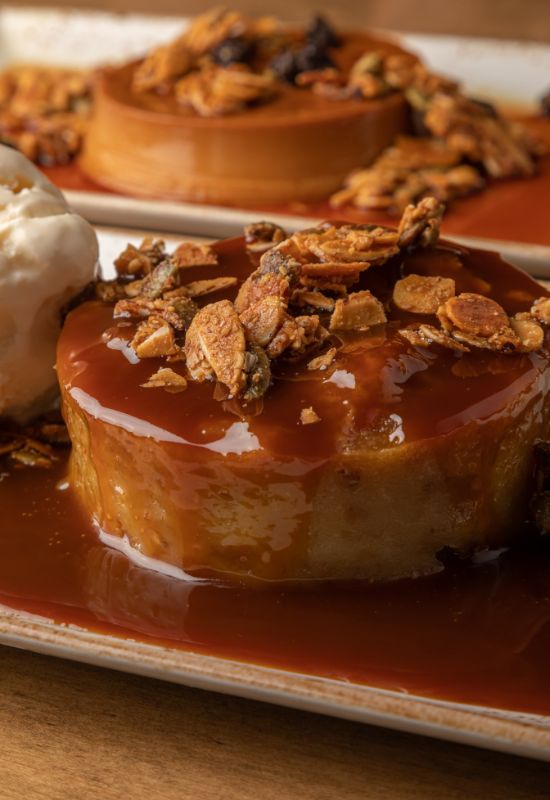 hazelnuts, sliced fresh bananas & peach flavored mascarpone cream cheese, wrapped in a crèpe served with vanilla ice cream and dulce de leche
a traditional cheese flan with an incredible texture served with almond & raisin praline
spongy chocolate outside with a warm, rich flowing chocolate inside and spicy caramelized almonds, with a scoop of vanilla ice cream
Glorias's style with caramel and vanilla ice cream
COFFEE
ESPRESSO
MACCHIATO
CORTADITO
CAPPUCCINO
LATTE
ICED COFFEE
CUBAN COFFEE
HOT TEA
ASSORTED
DIGESTIFS
LIMONCELLO     12
PORT     22
SHERRY     22
AMARETTO     13
SAMBUCA     12
COCKTAILS
CARAJILLO     14
licor 43, espresso, nixta licor de elote
ESPRESSO MARTINI     16
vodka, espresso, frangelico, baileys, kahlua, rumchata
HAPPY HOUR – "HORA JAGUAR"
4PM – 7PM Offered Monday through Sunday, 7 days a week! 
ALL CLASSIC COCKTAILS 50% OFF REGULAR PRICES
(holidays excluded)
CAIPIRINHA
cachaça, lime, azucar
MOJITO
light rum, lime, hierbabuena, azucar, soda water
MARGARITA
tequila blanco, triple sec, lime, azucar
PISCO SOUR
pisco, lime, egg whites, azucar, bitters
MEZCALTINI
mezcal, triple sec, lime juice
MAKE IT SPICY OR FRUIT FLAVORED (add $1)
BEERS / WINE BY THE GLASS
50% off regular prices
ALL HAPPY HOUR BITES: $8
(only available at the bar)
THREE CHEESE QUESADILLAS
FRIED CALAMARI
TACOS DE PACHOLA
COCHINITA SLIDERS
1⁄2 PORTION GUACAMOLE
CEVICHE TOSTADAS
11:30 am to 3 pm Mon-Fri except holidays     19
includes fresh natural fruit water and a sweet spoon bite
iceberg & romaine, black bean vinaigrette, tomato, cilantro, jalapeño dressing, avocado, peppers & crispy tortilla with grilled chicken breast
romaine, grilled chicken breast, parmesan & croutons
grilled chicken breast, gouda, manchego & mozzarella
seared fish of the day on a bun with watercress, tomato & guacamole
quinoa, cole slaw, red bell peppers, avocado, pickled red onions, pumpkin seeds and mango
JAGUAR'S FAMOUS ANGUS CHEESEBURGER
with chorizo, lettuce, tomato, red onion & french fries
chicken breast, mixed greens, tomato, and aji amarillo aioli
JAGUAR HANDCRAFTED SIGNATURE SAUCES
One of our classic sauces since 2005, this amazing aji amarillo sauce made with a yellow chile pepper from Peru gives our ceviches a special boost and a burst of flavor. It is the star of one of our most popular ceviches "Black Market" combined with corvina, shrimp and calamari. Use this sauce on fried calamari, grilled fish or as a dip for sushi & sashimi
This incredible sauce with delicious depths of flavor from roasted jalapeños and our secret mix of fresh herbs and spices pairs great with our tuna "Tiradito Lima". Use it in everything including as a salad dressing and on top of grilled prawns, shrimp or fish. I myself pour it over carnitas tacos for a fresh and vibrant contrast and balance.
Made with smoked red chiles from Mapuche, Chile, this versatile sauce pairs well with many items. We confit the chiles in our special blend of garlic, onion, and homemade secret vinegar to give the smoked chiles a special tang that brings out the best-rounded flavor. At Jaguar we top the Guacamole with it and it brightens up the avocado and opens up the creaminess of the dish. We also use the oil from this sauce to grill our Quesadillas. I use it on top of fried eggs and also grilled zucchinis and grilled onions as well and every once in a while I use it to top of my burger combined with fried onions.
a.k.a. "House Sauce" has been paired with our Chips since 2005. An addictive combination of tomato, caramel onions and chile de arbol from Mexico gives a new meaning to "can't eat just one". This amazing sauce is our go-to on chips and I myself use it on Chilaquiles even though it's a bit spicy, the balance of the cream and cheese makes it a perfect breakfast.
Our spiciest sauce ever still manages to have unsurpassed flavor. It's hot without overpowering the flavor of the sauce or the food it's meant to enhance. Born while having fun with guests when they wanted something hot but we did not want to give them regular ol' hot sauce, we created a sauce that's spicy and full of bright & natural flavors. A couple of drops go a long way.
Recommendations by Chef Oscar del Rivero
All of our sauces are made from only fresh, natural, and organic ingredients and contain zero preservatives. They require to be refrigerated and consumed and enjoyed within 2 weeks
Consuming raw or undercooked meats, poultry seafood or eggs may increase your risk of foodborne illness,
especially if you have certain medical conditions.